Take 3
New CD !!


Click CD cover to view more details and hear sound samples.
Now booking for CD tours beginning January 2013! Please contact Heartistry Music 715-682-9362 for details.
New Acoustic Trio, Take 3! Take 3 artists Tom Draughon, Lisa McGinley, and Kevin McMullin are consumate musicians whose delicate vocal arrangements and clear warm harmonies set them apart from almost all other groups in the contemporary acoustic music scene. As individual artists, each has been performing for over 25 years, honing their musical skills and showmanship in front of a wide array of audiences. All three are multi-instrumentalists and strong vocalists with extensive performing and recording backgrounds and performance credits. Take 3's instrumentation includes guitar, fiddle, bass, whistle, bodhran, autoharp, and banjo, and their musical styles range from traditional Appalachian to Celtic to Swing. Joining together in a tightly knit presentation of original and traditional music and songs, their impeccable musicianship and innovative vocal and instrumental arrangements combine to create a concert that will be enjoyed by the most discerning listener. Take 3 were personally asked by Tom Martin-Erickson of Wisconsin Public Radio to perform alongside John McCutcheon, The Pines and others for the Simply Folk 30th Anniversary Celebration at Lake Superior Big Top Chautauqua. Sound clips available below. More sound files available on the Catalog page.
PRESS KIT / PROMO PHOTOS click HERE!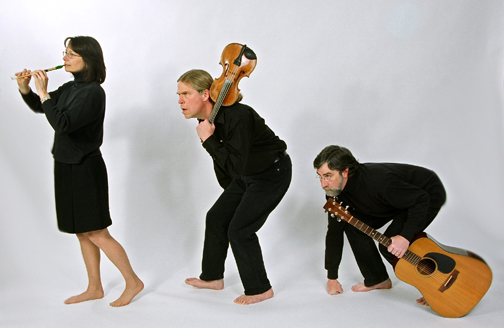 Upcoming 2013 Tour Dates:

Friday, March 15, 7:30 PM
Park Theatre
US Hwy 63
Hayward, WI 54843
715-634-4596
www.parktheaterproject.com

Saturday, March 16, 2013, 7:30 PM
Historic Ironwood Theatre
113 Aurora St, Ironwood, MI 49938
906-932-0618
http://www.ironwoodtheatre.net/

Saturday, August 17
Northwoods Music and Art Festival
Boulder Lodge
Ghost lake, Hwy 77, 25 miles East of Hayward, WI
7296 W State Rd 77, Hayward, WI 54843
715-462-3002
http://www.boldlodge.com/


Previous 2012 Tour Dates:
Sunday, August 19
Sundays In The Parks Concert Series
2:00pm Ellis Park FREE!!
Corner Stuntz Ave. and 3rd St. West
Ashland WI, 54806
http://www.heartistrymusic.com/sundays.html

Saturday, August 18
Northwoods Music and Art Festival
Boulder Lodge
Ghost lake, Hwy 77, 25 miles East of Hayward, WI
7296 W State Rd 77, Hayward, WI 54843
715-462-3002
http://www.boldlodge.com/

Saturday, July 7 , Seeley, WI.
Namekagon Art and Music Festival 12:30 - 2:30pm
(In the festival space next to Mooselips / Sawmill Saloon)
Highway 63, Seeley, WI 715-634-1006
www.cablehaywardarts.org/29.html


Saturday, June 9
Erica Quam Theatre
605 1st St.
Shell Lake, WI 54871
Sponsored by Theatre in the Woods
715-468-4387
http://www.titw.org/

Saturday / Sunday, June 2 & 3
Minnesota Bluegrass and Old Time Music Association
MBOTMA Minnesota Homegrown Kickoff Festival
El Rancho Mañana, Richmond, MN
800-635-3037
www.minnesotabluegrass.org

Friday, May 18
Heyde Center for the Arts
3 South High Street
Chippewa Falls, WI 54729
715-726-9000
http://www.cvca.net/
Saturday, March 17 St. Patrick's Day
Park Theatre
US Hwy 63
Hayward, WI 54843
715-634-4596
www.parktheaterproject.com


Friday, March 16
StageNorth
123 Omaha St.
Washburn, WI 54891
715-373-1194
www.stagenorth.com